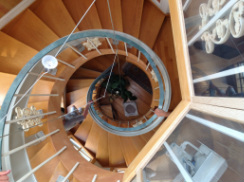 Stairchairs (also known as Stairlifts) are quickly gaining popularity in homes across Los Angeles County, Ventura County and Orange County. As more people discover Stairlifts are an easy, affordable way to continue to enjoy the home they love, the more the stairchair companies and dealers are elevating their standards of product and service.
Here at Look Stairchairs our one and only focus is stairlifts and quality informed customer service. It's important when buying any product to do the homework and research. With over 20 years of elevator experience and over 900 stairchair installations, we have the knowledge base to help people make a fully informed decision when looking for the right stairway elevator chairlift for their home. Whether buying the stairchair from us or from another dealer, the right information is key to finding the right stairchair for your home.
Look Stairchairs would like to present you with some tips for buying a stairlift. There are multiple Stairlift providers in Southern California to choose from. As you are evaluating your options make sure that any stairlift company you choose meets the following requirements:
1. Licensing: Make sure they are fully licensed in the State of California. Every stairlift dealer is required to have either a C-11 (Elevator) or a C-61 D-21 (Machinery and Pumps) California State Contractor's License. Ask the prospective company to give you their license number and check them out at
www.cslb.ca.gov
. This is to help protect you from fraudulent and unscrupulous dealers
2. Payments: California Contractor Law states that a contractor can only ask for a down payment of 10% or $1000.00, whichever is LESS, before material is delivered to the job. If your stairlift dealer asks you for down payment which is larger than this, they are breaking the law.
3. Worker's Compensation: If a company has employees, they must be covered by Worker's Compensation Insurance. This is to protect you in the event that an installer is injured during the installation. The stairlift dealer will be able to give you their certificate of insurance.
4. Liability Insurance: This is to protect you in the event that someone is injured using the stairlift due to a substandard installation. The stairlift dealer will be able to give you their certificate of insurance for this also.
5. Cost: Every stairlift dealer has different fixed costs and profit margins they would like to maintain. It is most important that you get more than one estimate when purchasing a stairlift.
When negotiating the final cost:
A) Ask each dealer for their "lowest price" without identifying other dealer bids.
B) Ask each dealer for their current service charge after purchase / warranty period ( IE. replace batteries)
C) Remember, cost is just one of multiple factors you need to consider when choosing among providers.
6. Know the difference between a stairchair dealer and a stairchair manufacturer's. For example Look Stairchairs is a Stairchair dealership that sells multiple stairchair manufacture's products. Bruno Independent Living Aids is a stairchair manufacturer that sells stairchairs through their certified dealer network.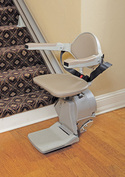 Finally, our featured chair of the week is a straight rail Elan produced by Bruno Independent Living Aids. Within the group of comparable straight rail Stairlifts to the Elan straight rail stairchair is steadily becoming a favorite among the residents of Los Angeles, Ventra and Orange County. The Elan is not the most expensive stairway elevator-lift chair but, it is in our experience one the most reliable and affordable straight rail stairchairs on the market today. The Bruno Elan straight rail stairlift now has optional folding power foot rest and power swivel seat as well as an optional folding rail that saves space.