Mobile Home Stairlifts
You Have a Less Expensive Choice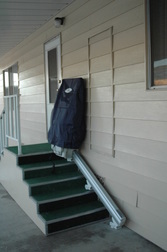 > If you have Problems Climbing Stairs ?
> If you are using a Cane or Walker ?
> If Balance is an issue for you ?
> If you Do Not have Room for a Ramp ?



---
CALL us TODAY For a FREE Estimate 1 - 866 - 782 - 4791

You don't need to choose This !
Mobile Home Stairlifts Available At Competitive Rates
Look Stairchairs, the largest stairlift-only dealer in Southern California, has installed many mobile home stair lifts across the region. Our experience with this unique product ensures that you will receive the best in terms of quality, value and service. We carry an extensive range of stair lifts, all available at competitive prices.
When you choose Look Stairchairs, you are guaranteed a durable product with 24/7 reliable after-sale support. Our in-house team of experts helps our customers to select a stairchair that fits their needs and budget. And every installation is performed by our factory-trained technicians.
The Look Stairchairs Edge
Quality, selection and 10+ years' experience with stairlifts
Competitive rates
Quick service delivery
Experienced, factory-trained technicians
How Can You Contact Us?
At Look Stairchairs, people looking for mobile home stairlifts can choose just the right product to meet their needs. Feel free to contact us at 1-866-782-4791, and one of our support representatives will be happy to help you.